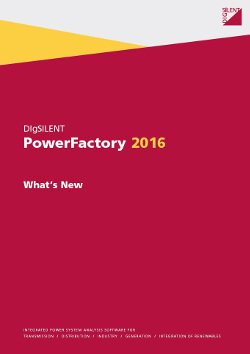 In the PowerFactory 2016 release a portfolio of new capabilities and features for improved result visualisation and graphical representation will be added. Moreover, the 2016 release will integrate a variety of new models and will provide a multitude of improvements regarding calculation performance via the incorporation of advanced parallelisation techniques. In addition, the new version will come with a completely redesigned look, making the handling more intuitive and improving workflow.
PowerFactory 2016 product highlights will include among others:
New Network Model Manager with grouping and filter functionality
Improved workflow through redesigned user interface
Diagram Layout Tool for auto-drawing of network diagrams
Integration of plots in network diagrams
View Bookmarks for improved navigation
Significantly improved performance by new parallelisation features as well as Task Automation command
QV Curves Calculation as new Transmission Network Tool
Phase Balance Optimisation as new Distribution Network Tool
Improved Reliability Assessment by Contribution to Indices
Cable Ampacity calculation based on IEC 60287 or Neher-McGrath method
Network reduction method based on REI equivalents
New Frequency Analysis tool including Prony Analysis
Enhanced electrical models such as extended synchronous machine models, power electronic converter models (MMC, HVDC Control Modes), and a new Universal Line Model (ULM), etc.
New convenient functions for plots (statistic labels, moving/sliding and compression, digital signal plots, fault recorder view, etc.)
Compliance with ENTSO-E Profile CGMES based on CIM 16
Important Information:
Please note that in PowerFactory 2016, the licensing technology will be changed. For customers using PowerFactory 15.x and previous versions, it is important to note that PowerFactory 2016 will not automatically work with the old USB hardlocks anymore. This implies that customers who wish to move from former versions to PowerFactory 2016 will need to migrate their former licence.
Detailed information on this is given in Chapter 11 of the document "What's New in PowerFactory 2016".This document can be downloaded from our Download Area for "Registered Users".
With the release of PowerFactory 2016, end of January 2016, you will be able to apply for licence migration