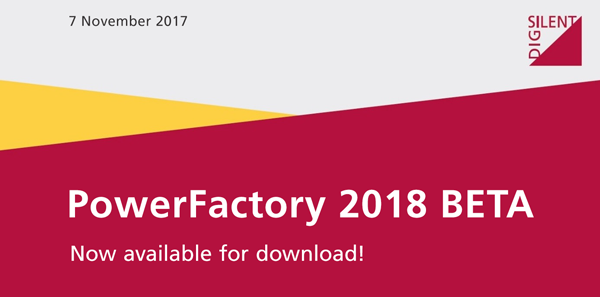 DIgSILENT has released a first BETA version of
PowerFactory 2018
. This new preview version is available to all our customers with a valid guarantee/maintenance contract.
Major new developments in functionality include the introduction of Probabilistic Analysis, Remedial Action Schemes in Contingency Analysis, Data Extensions and new tools for Protection analysis.
PowerFactory 2018
also comes with new and improved interface functions including a PSS/Sincal data import converter and a Plant and Grid Performance Monitor to support real-time data streaming for RMS simulations.
There has been an emphasis on usability, in particular a restructuring of the Global Library and the introduction of versioning, enabling all models including protection device models to be included in the Library. The plots functionality has been redesigned, there are improvements to the data colouring methodology and a new graphic search option is available.
The significant developments for PowerFactory 2018 include among others:
New module Probabilistic Analysis, incorporating very powerful capabilities for managing stochastic parameters based on distribution curves and their correlations
New Distance Protection Reach Colouring in diagrams and a new Short-Circuit Sweep plot
New Remedial Action Schemes in Contingency Analysis, for flexible and dynamic analysis of post-fault actions
New Frequency Response Analysis of dynamic models
New Plant and Grid Performance Monitor to support real-time data streaming for RMS simulations, based on IEEE C37.118
Simulation snapshot saving for subsequent analysis
Improved visualisation of the results of Modal Analysis
Enhanced Cable System Analysis with improved cable layout modelling
Revision of Equipment Type Library with new versioning concept
Inclusion of the complete set of Protection devices in the library
New and improved models including Multi-Core Cables, Thyristor Controlled Series Capacitor and HVDC Line Commutated Converter
New Data (Model) Extension concept, opening up new possibilities for user customisation with user-defined attributes
Powerful graphic search option for network elements in diagrams, including geographic search
Improved plot nomenclature and handling, including user-friendly plot insert option
Revised data colouring scheme to provide a better visualisation of data status such as characteristics and distributions
New PSS/Sincal data import converter