The DIgSILENT PowerFactory protection analysis tool contains a comprehensive protection device model library. All relays are modelled for steady-state calculations (short-circuit, load flow), RMS and EMT simulation modes. The definition of relay types is highly flexible via block diagrams. For RMS and EMT simulation purposes, relays may be extended and adopted to cope with user specific requirements via the PowerFactory DSL language The features of the protection models are available in product manual which can be downloaded from attachments in our product library.
In addition to these protection functions and relays, DIgSILENT PowerFactory provides further devices and characteristics for more detailed protection system modelling, such as: Current and voltage transformers that include saturation effects, Conductor, cable damage curves, cable overload curves and inrush peak current modelling, Transformer damage curves (ANSI/IEEE Standard C57.109-1985) and inrush peak current modelling, Motor starting curves, cold and hot stall, in-rush peak current modelling, and any user-defined curves.
In this blog we give some examples for modelling and simulation of Distance Relays for phase, ground and zone distance protection. Provision is available for incorporating overcurrent and under-impedance starting units (U-I or Z) as well as angle under-impedance.
Different characteristics are available for distance relay zones including: MHO, offset MHO, Polygonal, offset polygonal, Tomatoes, lens and circle, R/X Blinders and quadrilateral
Support of various polarizations such as: Self-polarized, Cross polarized (90ø connection), Positive, negative sequence polarized, Optional: voltage memory, Zero sequence and parallel line compensation.
The model shows a network with transmission lines being protected by distance relays. We can see the protected line 1-2 when fault is applied, the relay trips in Zone 1. R-X plane shows the tripping time. When fault is simulated on the other connected line 2-3 , relay trips in Zone 3 aith the delay.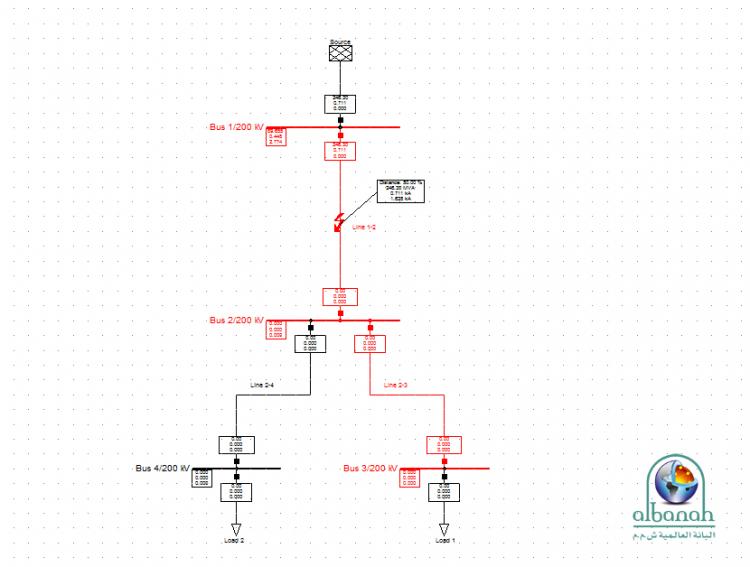 PowerFactory Model for the Transmission Lines Network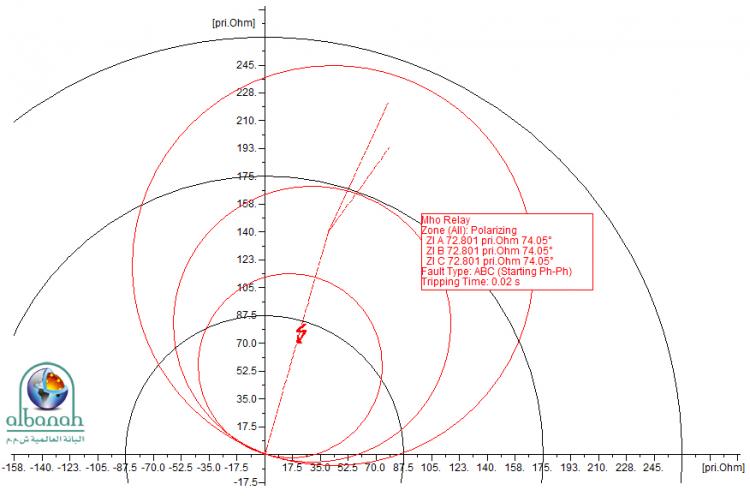 R-X Plane for Fault Simulation in Zone-1 of Protected Line 1-2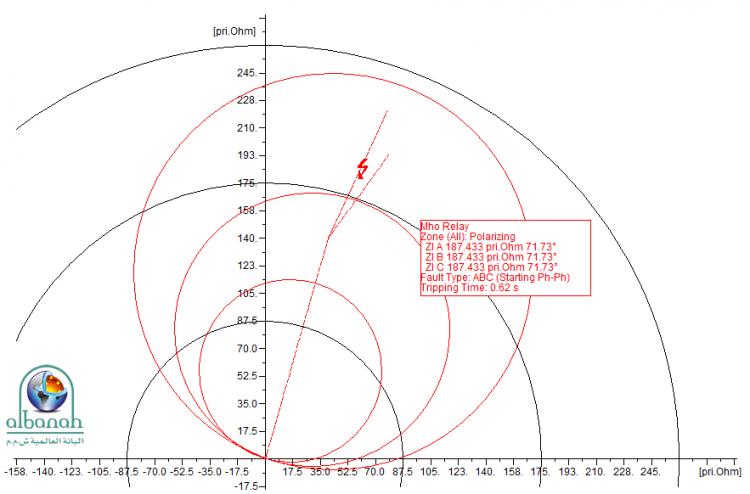 R-X Plane for Fault Simulation in Zone-3 of Protected Line 2-3