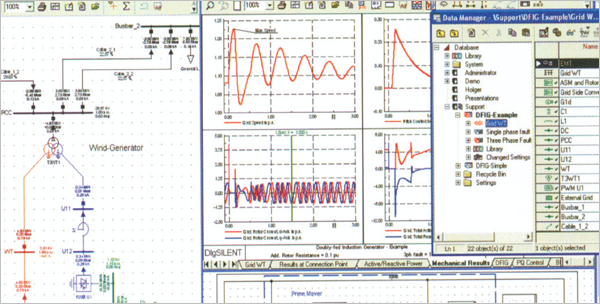 The development of DIgSILENT [
DIg
ital
SI
mu
L
ator for
E
lectrical
N
eTwork] software began in 1976, and utilized the talent of many experienced power system engineers and software developers directly involved with the planning, operation and maintenance of power systems. Since the inception of DIgSILENT, the program has grown to incorporate a vast array of analysis features that are required to plan, operate and maintain any aspect of the power system.
The new DIgSILENT PowerFactory software is an integrated power system analysis tool that combines reliable and flexible system modeling capabilities, with stateof-the-art solution algorithms and a unique database management concept. The PowerFactory concept was initiated in 1993 when the decision was made to reengineer the already successful DIgSILENT Version 10.31 with improved solution algorithms and advanced software technology incorporating an object-oriented database.
PowerFactory - the new generation power system analysis software was first released in 1997 providing the required product stability to guarantee efficiency in your daily application. Until today, some 10 000 licenses are in operation in over 140 countries.
Some of the key references are National Grid (UK), ESKOM (South Africa), Swissgrid, Tennet, ETRA, Dong, Terna, EON, EDF, PDO (Oman), etc. There are many commercial packages available that can address most power system analysis problems. However, these packages differ considerably in their integration, result validity and computational efficiency. DIgSILENT PowerFactory is the leading product with respect to integrated modeling capabilities and solution algorithms. It provides all required models and techniques of modern power systems.
Universities, research institutes and educational organizations have now better access to the superior PowerFactory technology. As we observe an increased demand in modeling of modern power systems such as distributed generation and wind energy, DIgSILENT has decided to make two special versions of the Enterprise Package available: PF4E and PF4R. Both packages allow full access to those functions which are required to model and analyze most complex power systems such as power electronic devices, unbalanced operation or AC/DC systems. All functions are included which are required to simulate steady state operation incl. harmonic load flow, protection, reliability and time domain simulations ranging from microseconds to hours (from EMT to long term stability).
To download an evaluation copy of DIgSILENT PowerFactory software, click here to request a demo version.
To get prices for DIgSILENT PowerFactory software, click here to request a quotation.
Please also visit our forum. The following section is dedicated for discussing topics related to PowerFactory software. http://www.digsilent.me/dme/forumdisplay.php?14
For more information about the software, kindly browse our video section to watch selected demos.
For more information on latest version of the software, please download the attached files.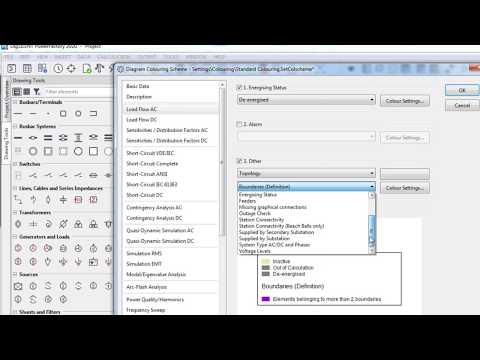 Click Here To Browse Detailed Page