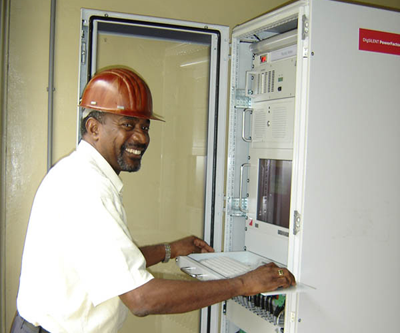 The DIgSILENT PowerFactory Monitor PFM300 provides an excellent overview of grid operation. The multi-timeframe recording mechanism captures all types of events (e.g. those caused by short circuits, switching actions or instability phenomena), mid-term transients and steady-state grid characteristics.
PFM300 is an integrated, multifunctional data acquisition system that covers recording, monitoring and analysis of signals in all relevant timeframes. Flexible hardware and software components allow for the configuration of portable systems, standalone installations as well multiple distributed and linked installations.
DIgSILENT PowerFactory Monitor PFM300 product highlights include among others :
Multifunctional Fault and Event Recorder. Transient fault recording facilitates the analysis of protection and circuit-breaker device operation
Dynamic System & Network Performance Monitor (DSM). DSM performs the important tasks of power system stability supervision and determination and analysis of key system parameters.
Power Plant Monitor (PPM). Precise knowledge of grid response and plant characteristics is often required for solving stability problems, operating within stability margins and for the optimal tuning of grid and plant control systems.
Grid Code Compliance Monitor. New rules and grid codes to connect generators to the grid are emerging worldwide. In every region, the operators responsible for the safety and reliability of the power system have established different requirements to connect renewable generation systems to transmission and distribution networks.
Phasor Measurement unit (PMU). Wide area measurement (WAM) in regional transmission grids and very wide area super grids via PMUs is considered to be one of the most important measurement techniques in future power systems. PMUs increase grid reliability by early detection of faults and prevention of power outages.
Power Quality Monitor (PQM). Poor power quality is a problem for all consumers. It contributes to high energy costs and production disturbances. Following the IEC 61000-4-30 standard it is possible to verify the power quality of the power supply.
More pictures are available by browsing the link below showing Portable and Fixed Versions of PowerFactory Monitor
http://www.digsilent.me/dme/album.php?albumid=3