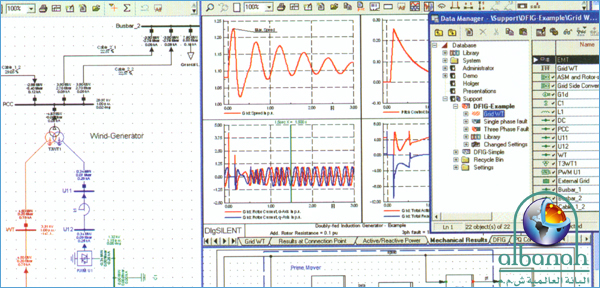 Universities and research institutes have now better access to the superior PowerFactory technology. As we observe an increased demand in modeling and simulating modern power systems such as distributed generation incl. wind power, photovoltaics and micro turbines, DIgSILENT has decided to make a special versions of the Enterprise Package available dedicated to public funded research activities: PF4R. The research license allow full access to those functions which are required to model and analyze complex power systems incl. power electronic devices, unbalanced operation or AC/DC systems. All functions are included which are required to simulate steady state operation incl. harmonic loadflow, protection, state estimation and reliability. Time domain simulations ranging from microseconds to hours (from EMT to long term stability (RMS)) are included as well.
Included functions: PowerFactory Enterprise Functions
Maximum bus limitation: unlimited
Number of users: As required.
Type of license server: Network (USB hardlock)
Price: please ask for quotation
Support: free installation support; full user support
12 months free software update via Internet
Type of license: For research purposes only (e.g. projects financed by governments and other non-profit organizations)
For PowerFactory Enterprise Function Definitions, please visit the link
http://www.digsilent.me/dme/content.php?16
For projects and applications financed and contracted by commercially operating companies or for the performance of consulting services, the standard PowerFactory list prices and leasing conditions for commercial licenses will apply.